RS-232 interface module, with 9 inputs and 9 outputs. Uses an AVR ATmega8 microcontroller.
Table of contents
Details
This I/O module provides 9 digital inputs and outputs for the computer serial port. The outputs are open collector — giving GND when activated, max load per channel is 100mA.
The inputs are triggered when they are pulled low.
By sending commands to the module; one can change the status of the outputs, the module will confirm when the action is carried out.
It's also possible to ask for the current status of any in- or output, this is done by not sending a set value:
002:o:01:1 will set output 1 active
002:o:01   will return the output 1 value

The same can be done with the inputs:
002:i:01   will return the input 1 value

All commands from the module is sent with a checksum.
I/O
Input
PC0 Input 1
PC1 Input 2
PC2 Input 3
PC3 Input 4
PC4 Input 5
PC5 Input 6
PD5 Input 7
PD6 Input 8
PD7 Input 9
Outputs
PB0 Output 1
PB1 Output 2
PB2 Output 3
PB3 Output 4
PB4 Output 5
PB5 Output 6
PB6 Output 7
PB7 Output 8
PD2 Output 9
PD3 Life-signal (to Module stability monitoring unit 2)
PD4 Link activity
D-Sub 25-pin
5V +
5V -
Input 1
Input 2
Input 3
Input 4
Input 5
Input 6
Input 7
Input 8
Input 9
Output 1
Output 2
Output 3
Output 4
Output 5
Output 6
Output 7
Output 8
Output 9
Life-signal
Communication
Interfacing is done with RS-232, using MAX232 or MAX202 and the SIOS protocol.
13:53:08 => 002:i:06:1:122
13:53:08 <= 002:i:06:0
13:53:05 => 002:o:01:0:122
13:53:05 <= 002:o:01:0
13:53:03 => 002:o:01:1:123
13:53:03 <= 002:o:01:1
13:52:58 => 002:s:01:1:127
13:52:35 => 002:s:00:1:126

Serial settings
Baud: 9600
Data bits: 8
Parity: None
Stop bits: 1
Source code
I wrote a v2.0 of the firmware, changing six inputs from digital to analog. But I never made the required changes to the electronics. The repository below links to v.1.0
Bascom-AVR source is available in a git repository:
Photos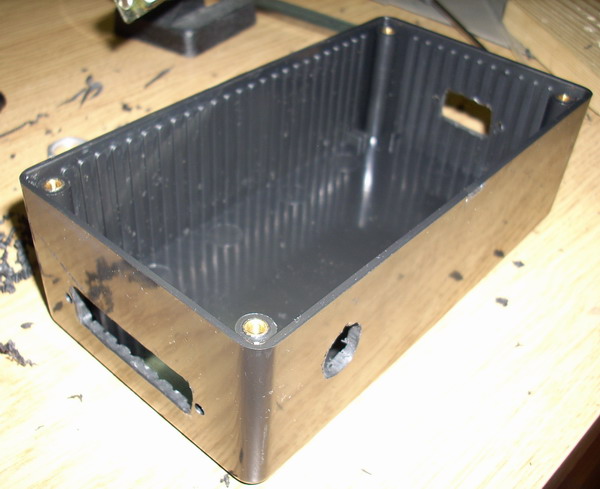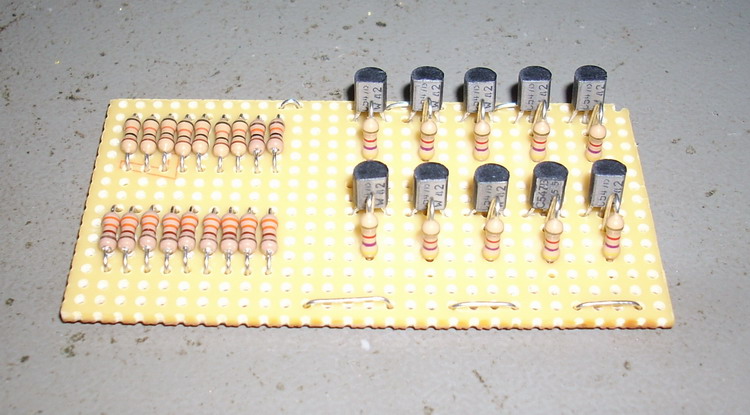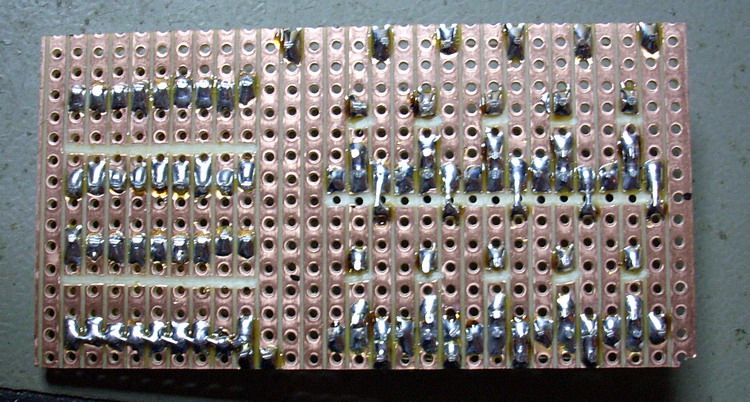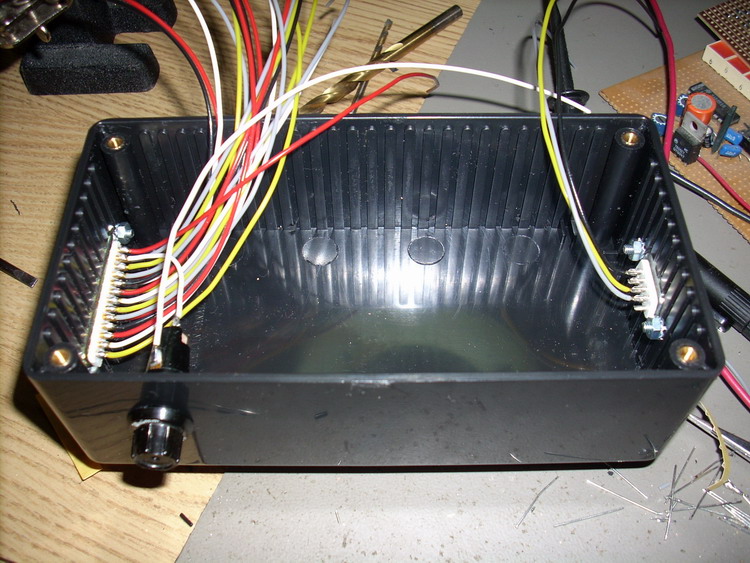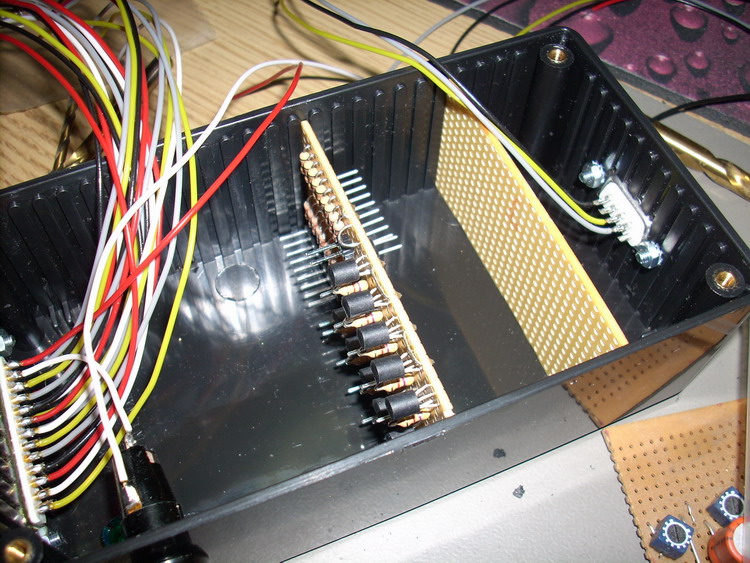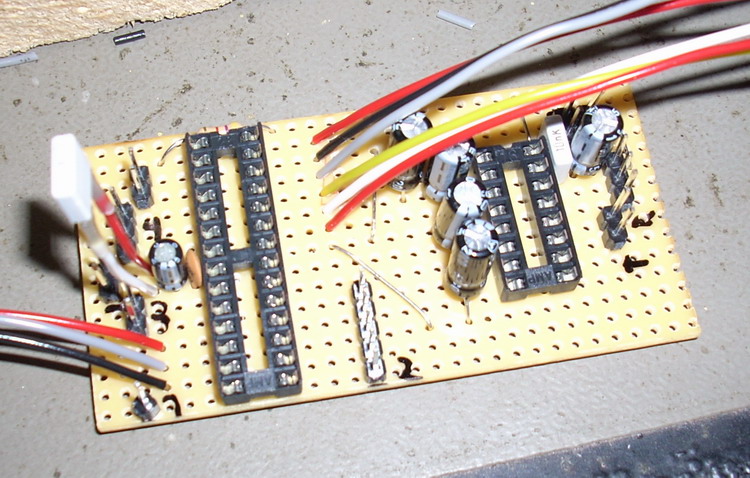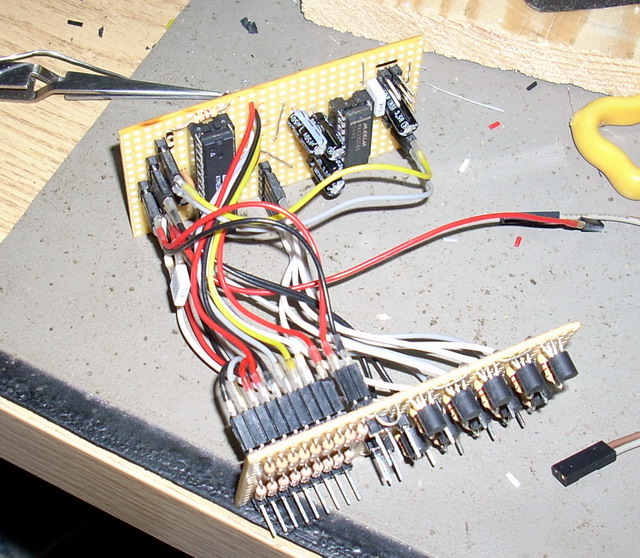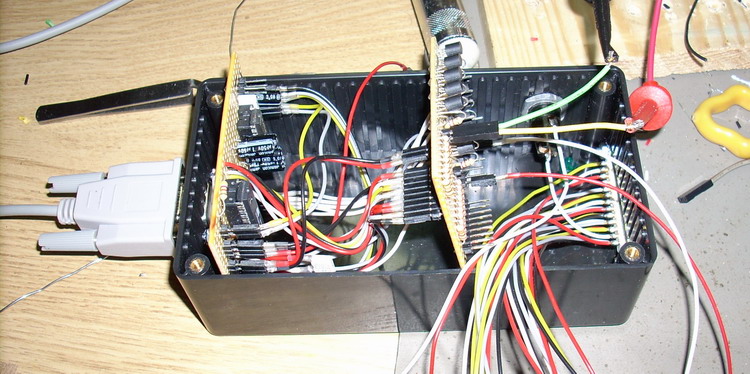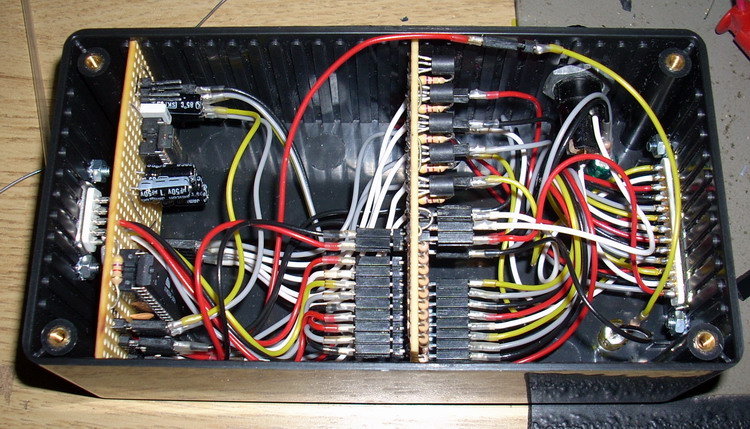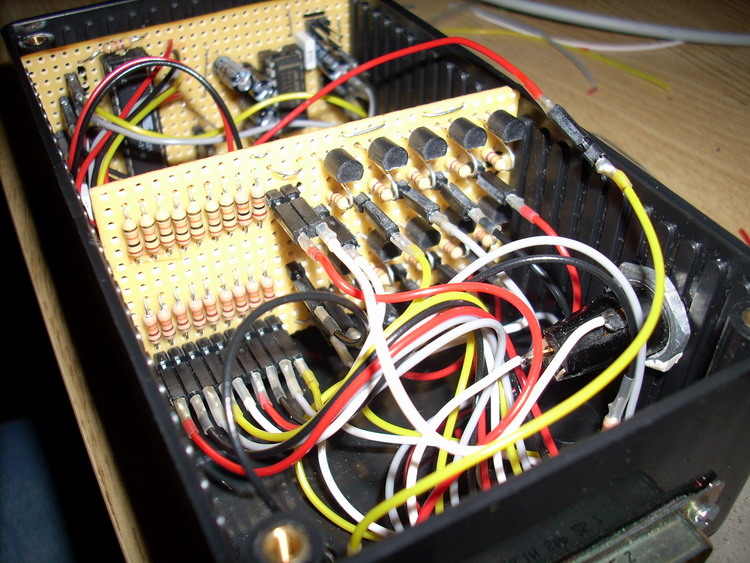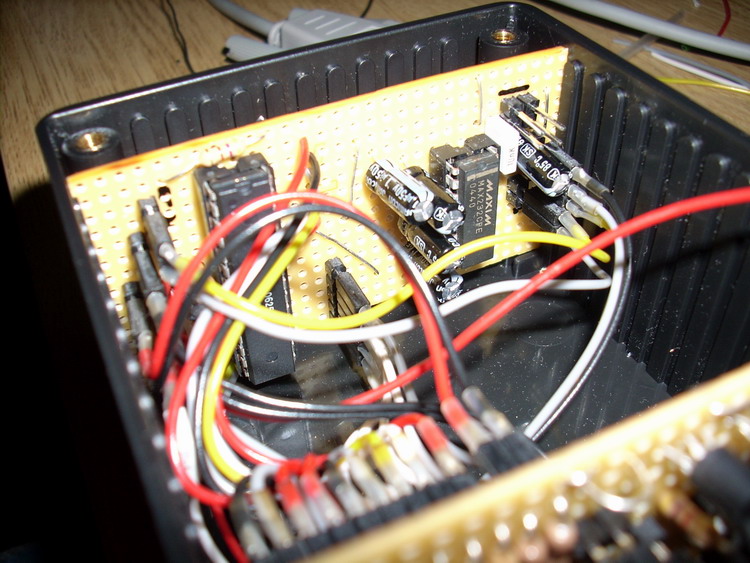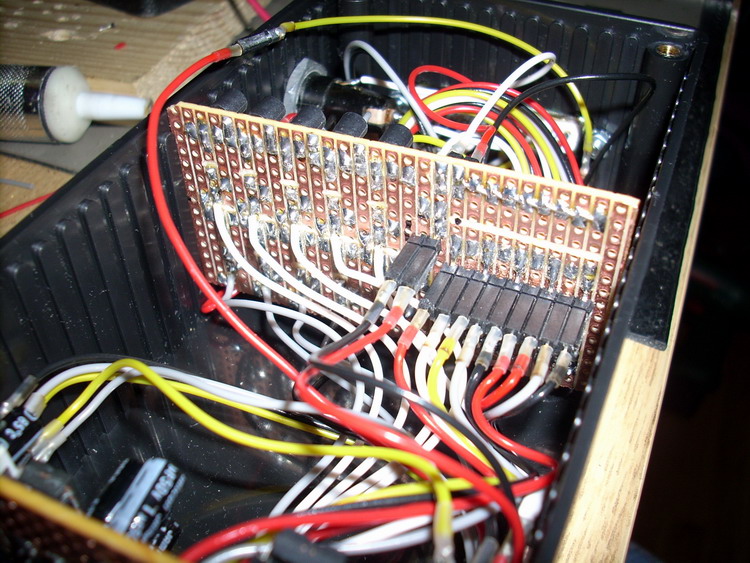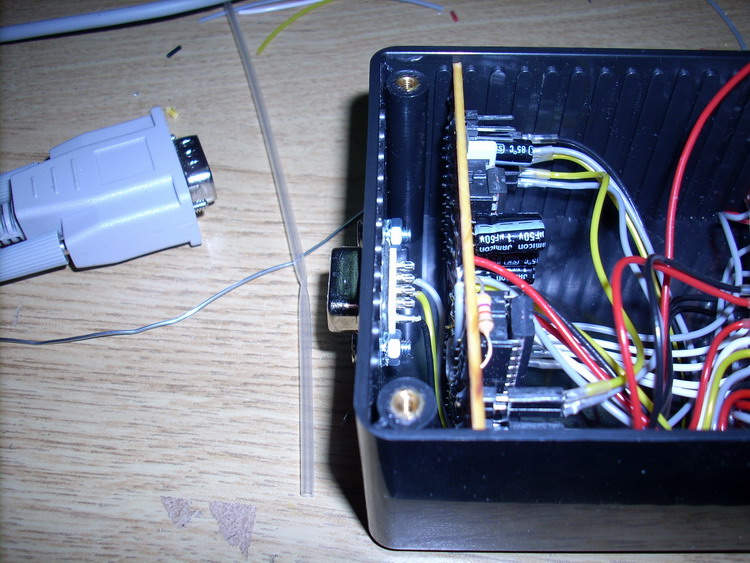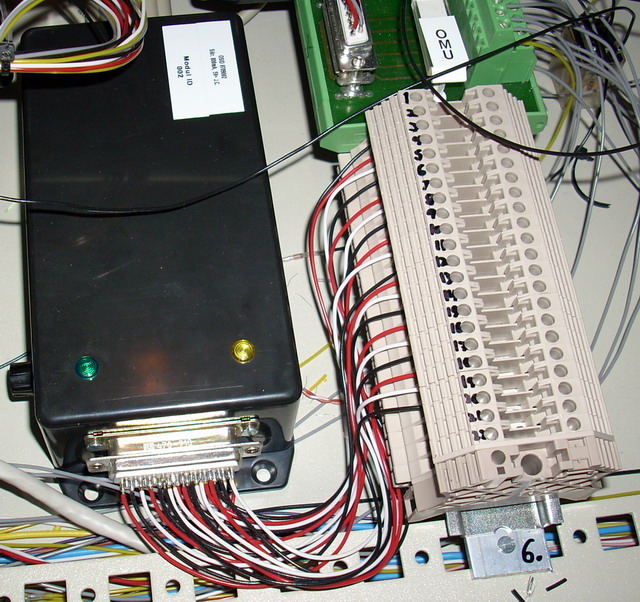 Schematic drawing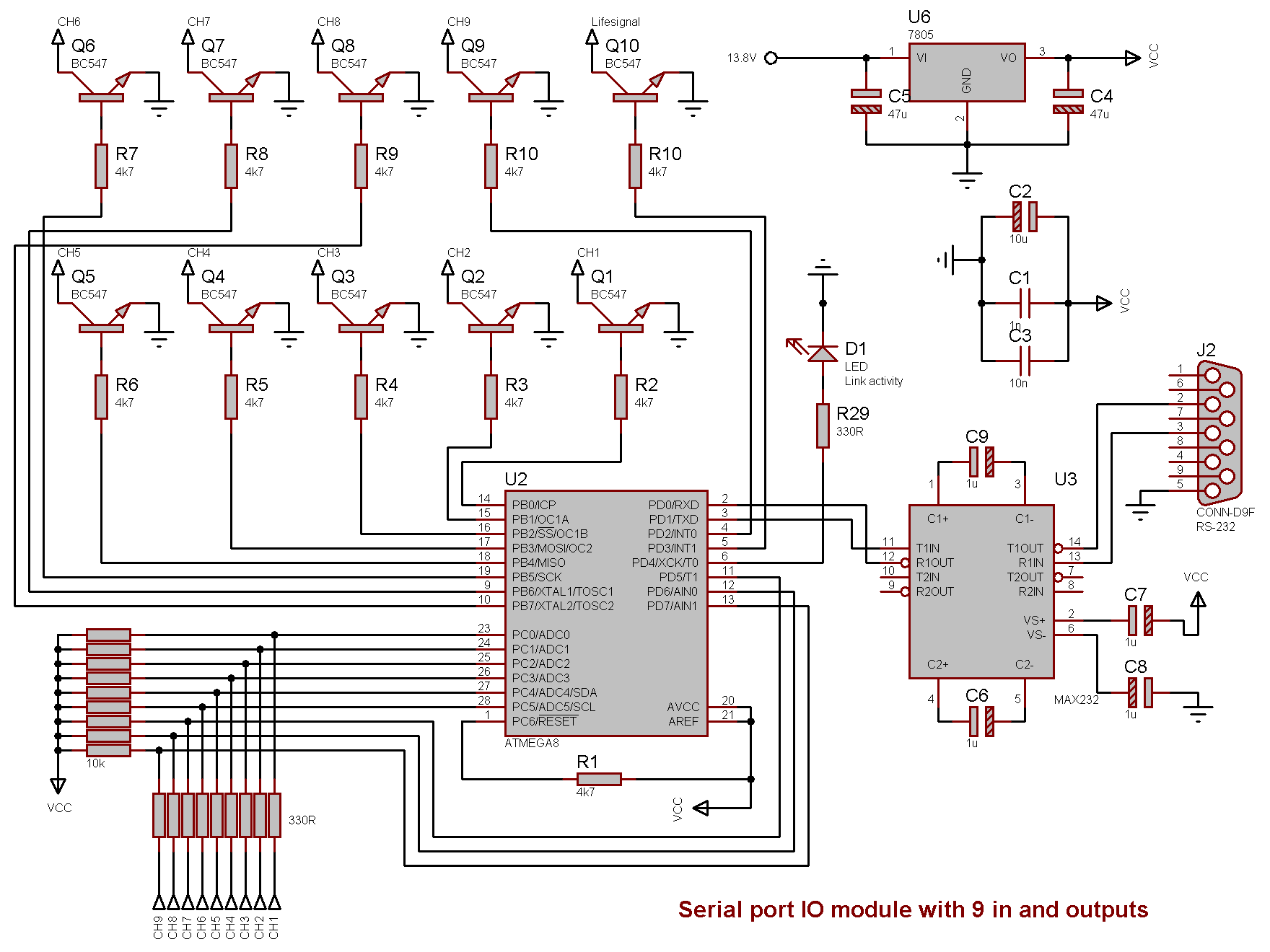 Parts list
1 × AVR ATmega8-16PU, DIL-28, 16 MHz, 23 I/Os
5 × Capacitor, aluminium electrolytic, 1 µF, 50V
1 × Capacitor, aluminium electrolytic, 10 µF, 25V
1 × Capacitor, ceramic, 1 nF, 100V
2 × Capacitor, metallized polyester foil, 10 nF, (0.01 µF)
1 × D-sub soldering cups, 25 pin male
1 × D-sub soldering cups, 9 pin female
1 × DIL socket, 16-pin, 7.62mm
1 × DIL socket, 28-pin, 7.62mm
1 × Enclosure, plastic (1591 FL), 150x80x50mm, flange
1 × Fuse 5x20 mm, 800 mA, fast-acting
1 × Fuse holder, panel, 5x20mm, PTF30
1 × LED 5mm clear, Green, 2.1V, 20mA, 385mcd, 6°
1 × LED 5mm clear, Yellow, 2.0V, 20mA, 250mcd, 6°
1 × LED lens 5mm, CLB 300 low, Green
1 × LED lens 5mm, CLB 300 low, Yellow
64 cm2 PCB, stripboard, 100x160mm, 160cm2
11 × Resistor, carbon film, 0.25W, 330 Ω, 5%
11 × Resistor, carbon film, 0.25W, 4.7 kΩ, 5%
9 × Resistor, carbon film, 0.25W, 10 kΩ, 5%
1 × RS232 interface, MAX232CPE, dual
58 × Straight pin header, female, Single row, 2.54mm
48 × Straight pin header, male, Single row, 2.54mm
11 × Straight pin header, male, Y, Single row, 2.54mm
10 × Transistor, NPN, 100 mA, 45V, 0.5W, BC547B