I've already written about my PDU suddenly dying — and in that post I explained that I was going to do some changes to the homelab power layout. It's time to do those changes 🙂
Table of contents
The plan
So let's first have a look at the changes I described in my earlier post:
I'm keeping the ATS and UPS, as they have been good, and are fairly expensive
The PowerWalker MBS (maintenance bypass switch), will be replaced by a EATON HotSwap MBP
I'm getting a simple "dumb" PDU to replace the one that died, more precisely; the APC AP9568
I explained my reasoning for getting a "dumb" PDU instead of replacing the monitored and switched device I had — here is a quick recap:
One reason why I initially wanted a switched PDU — was the ability to remotely force restart a locked server. But I have to admit; since 2017 I've only used this once…

Since the PDU is located after the UPS, it's a single point of failure, and pretty critical. Any disruptions will cut power to everything, no clean shutdowns 😕
I got lucky with the replacement MBP and APU:
I was able to get both the EATON HotSwap MBP and APC AP9568 second hand, so it didn't break the bank.
In addition to the tasks listed above; I'm also installing a USB power supply. I have several devices in the rack using 5V power, and they are currently powered with AC adapters. Instead I want to power them with a single USB power supply — Anker A2123L12.
Maintenance bypass
The bypass has 1×C19 and 6×C13 power outlets. With the old PDU — I didn't use the power outlets on the bypass, as I needed all loads to go through the PDU for power measurements. Now that I'm instead using the power measurements from the ATS and UPS, I'll be using some of the outlets on the bypass as well.
To replace the bypass — everything had to be powered down. I got my maintenance window approved by the family and got to work…
One thing I really like about this new bypass, compared to the old one — is that it has indicator LEDs. Showing if it's in bypass, and whether it's OK to switch back to normal.
The power plug retainers didn't fit some of my plugs, so I used zip ties to secure them. I really don't want these cables coming loose by accident.
And done, new maintenance bypass installed 🙂 I like having the option of taking the UPS offline, for testing or maintenance, without having to power everything down and provide temporary power.
While replacing the bypass, I also removed a type F power strip that I wasn't using.
Power distribution unit
Now onto the PDU — this one has 15×C13 power outlets and is 0U, meaning that it doesn't take up any rack units as it's meant to be vertically mounted.
I already had a tiny 4×C13 PDU mounted on the right side of the rack — for the network equipment. I removed it to make room for the new PDU.
APC AP9568 PDU installed 😃 I really like the vertical mounting, it doesn't take up any space and the connectors are easy to get to and close to the servers.
Then it was just a matter of organizing and moving power cables into the new PDU.
I'm keeping my two biggest servers, Alpha and Zeta, plugged directly into the EATON HotSwap MBP. And moving everything else to the new PDU.
USB power
Having lots of AC adapters in a power strip isn't ideal. They often block adjacent outlet, and it just looks messy.
I currently have six devices with AC adapters:
1 × RIPE Atlas probe
1 × Philips Hue bridge
1 × Raspberry Pi 3
3 × Pine64 Rock64
But they all require 5 V, so they can all be powered with a single power supply.
The Anker PowerPort A2123L12 has 6 USB A power outlets, and a total of 60 W — 10 W, that is 2 A, per outlet. I mounted it behind a vertical bar on the side of the rack — where it's easily accessible, but doesn't get in the way.
I'm still in the process of moving devices from their AC adapters to the Anker PowerPort.
I got some nice braided cables from Baseus on eBay. They seem durable and are easy to bend. The micro USB even supports double-sided insertion 🤯
The Raspberry Pi 3 uses micro USB, while the Pine64 uses 3.5mm DC jack.
Cables:
I haven't got a USB A power cable that fits the 2.1mm DC jack used on the Philips Hue bridge. Maybe I'll connect that to PoE instead, I have an active PoE splitter that fits.
Wrapping up
I'm happy with the changes — the new PDU has more power outlets, is more accessible, and I've freed up a rack unit 🙂 Without the measuring PDU; I'm using readings from my ATS and UPS instead. I no longer have individual power usage for each server, but it's not something I'm going to miss — I think.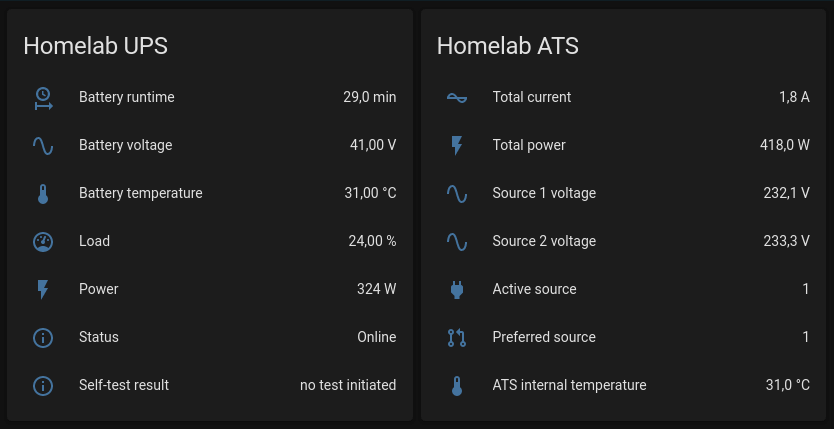 Time will tell if I need to be able to remotely force reboot machines — I've only done this once in the almost five years I had the previous PDU. I can always get another switched PDU, I got a full refund for the broken one 👍