In 2021 I wrote 69 blog posts, which is an all time record for me. In 2022 — I'm going to try and keep it going 🙂
Table of contents
Platform
It's been one year since I last switched blogging platform; this time to Hugo. I've used a bunch of platforms over the years, which I have written about. But here is a quick recap:
2006 WordPress
2007 MediaWiki
2015 self-made, with Laravel
2018 Jekyll
2018 Ghost
2018 Platform hunting

Wiki.js
DokuWiki
Bookstack
Grav

2019 Hugo
2019 MediaWiki
2021 Hugo
Writing process
This last year — I've managed to write consistently. I think the key is not that I finally found a platform that suites all of my needs — but that I changed the way I think about writing.
I used to view it as a chore, something that didn't benefit me, just something I had to do once I finished a project. That doesn't make the writing process very enjoyable.
I've since realized that I write not primarily for my audience, but for myself. Documenting a project is a really nice way of cementing the knowledge I've gained.
And any holes in my understanding of a topic, quickly becomes apparent when trying to write about it.
Website traffic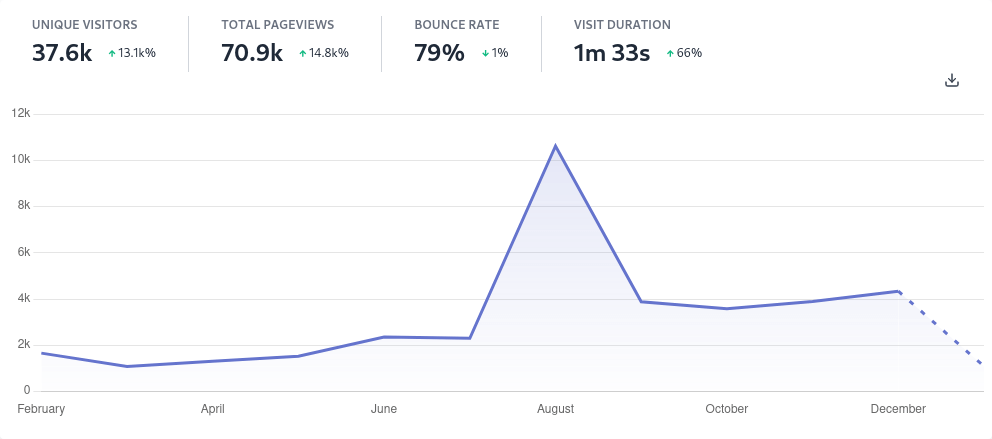 During the last year, I've seen the traffic steadily increase. And even had a post blow up big time on Reddit. This is also very rewarding of course.
Posts vs. year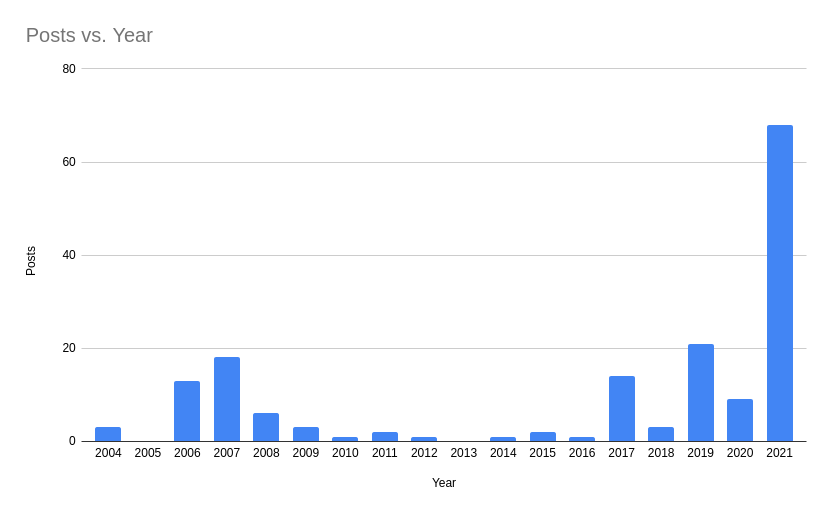 2021 really stands out with regards to published posts 🙂
Ending thoughts
So is Hugo the ultimate blogging platform? Maybe, but I think that is beside the point. Hugo works well, and most importantly — it doesn't get in my way.
So what changed then? Why do I write consistently now, when I didn't before? Me — I changed. From someone that doesn't write — into someone that does write. And the more I write, the more I enjoy the process and see the benefits of being a person that writes.
My new year resolution for 2022 is simple; continue to be a person that writes.
🖖