I made a simple HAT (Hardware Attached on Top) for the Raspberry Pi to read multiple DS18B20 temperature sensors — it was surprisingly easy. I used the measured temperatures to control a fan using Home Assistant.
Table of contents
First test
I started testing with a single DS18B20 break-out board.
First we need to do a couple of things on the Pi:
Enable 1-wire communication with raspi-config
Install python package sudo apt install python3-w1thermsensor
Now — let's try to list the connected 1-wire devices:
$ ls /sys/bus/w1/devices/


28-0416a02b0eff  w1_bus_master1

Alright, we have one device! Now to read the temperature:
$ cat /sys/bus/w1/devices/28-0416a02b0eff/w1_slave


8e 01 4b 46 7f ff 0c 10 de : crc=de YES


8e 01 4b 46 7f ff 0c 10 de t=24875

24875 = 24.875°C
Sweet! 😄
Making the HAT
To make something more permanent — I used a 30×70 mm prototyping perfboard, schematic diagram and parts list below.
On the underside I attached a female pin-header for the Raspberry Pi GPIO ports.
And on the top; five 3-pin male pin-headers for DS18B20 temperature sensors, and a 10k pull-up resistor. All the 3-pin male pin-headers are connected in series.
Only three pins are needed to connect to the Raspberry Pi; VDD (5V), GND and GPIO4 (1-wire). I'm using a 20-pin header because it makes the HAT attach more firmly.
I connected a couple more DS18B20 temperature sensors and listed their IDs:
$ ls /sys/bus/w1/devices/


28-0416a02b0eff  28-0517021db9ff  28-051702869eff  w1_bus_master1

Reading the sensors
To read the sensor values I made a tiny python script.
Source code is available in a git repository:
It reads each sensor every 15 seconds and publishes the measurements over MQTT, it also calculates the average of all the connected sensors and publishes that.
See it in action here:
Home Assistant
My Home Assistant subscribes to the temperature measurements over MQTT, and I use the average temperature from all sensors to control the home office exhaust fan.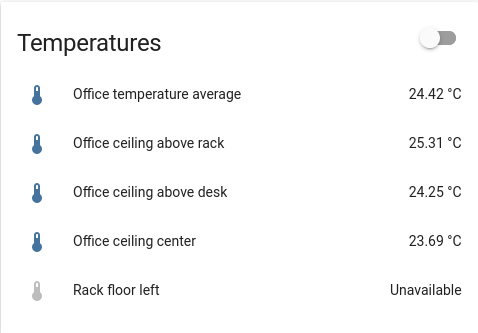 Sensor configuration
sensor

:




  

- 

platform

:

 

mqtt




    

state_topic

:

 

'sensor/office/temp/above_rack'




    

availability_topic

:

 

"sensor/office/temp/above_rack/status"




    

name

:

 

'Office ceiling above rack'




    

unit_of_measurement

:

 

'°C'




  

- 

platform

:

 

mqtt




    

state_topic

:

 

'sensor/office/temp/above_desk'




    

availability_topic

:

 

"sensor/office/temp/above_desk/status"




    

name

:

 

'Office ceiling above desk'




    

unit_of_measurement

:

 

'°C'




  

- 

platform

:

 

mqtt




    

state_topic

:

 

'sensor/office/temp/room_center'




    

availability_topic

:

 

"sensor/office/temp/room_center/status"




    

name

:

 

'Office ceiling center'




    

unit_of_measurement

:

 

'°C'




  

- 

platform

:

 

mqtt




    

state_topic

:

 

'sensor/office/temp/average'




    

name

:

 

office_temp_average




    

unit_of_measurement

:

 

'°C'



Fan automation
- 

alias

:

 

Fan on auto




  

trigger

:




    

platform

:

 

numeric_state




    

entity_id

:

 

sensor.office_temp_average




    

above

:

 

25




  

action

:




    

service

:

 

switch.turn_on




    

entity_id

:

 

switch.office_fan







- 

alias

:

 

Fan off auto




  

trigger

:




    

platform

:

 

numeric_state




    

entity_id

:

 

sensor.office_temp_average




    

below

:

 

24




    

for

:




      

minutes

:

 

5




  

action

:




    

service

:

 

switch.turn_off




    

entity_id

:

 

switch.office_fan



Schematic diagram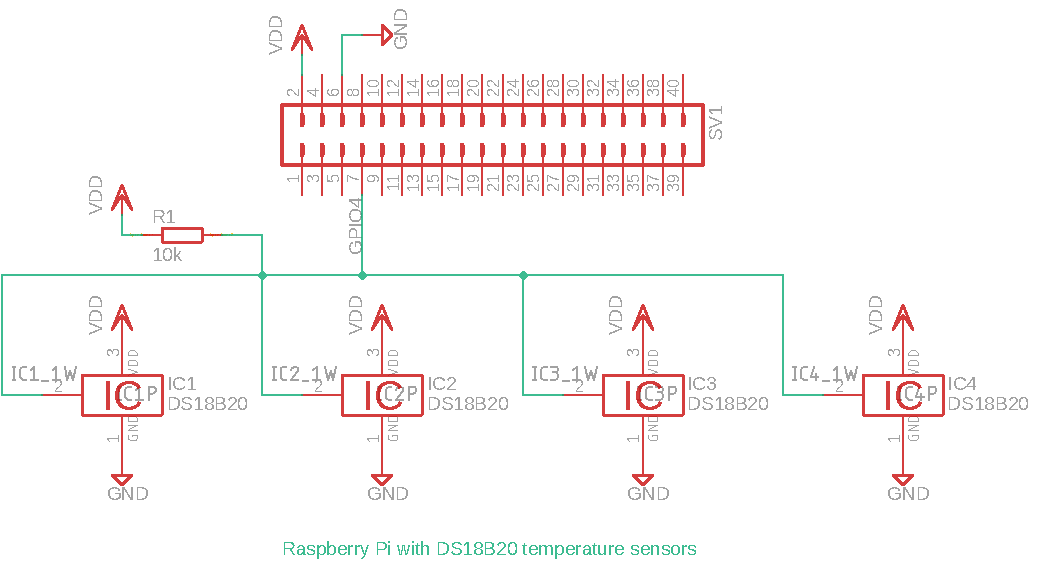 Parts used
1 × microSDHC card, Transcend, 32GB, class 10, 20MB/17MBs
1 × PCB, perfboard prototyping, 30x70mm, 21cm2
1 × Raspberry Pi 1 Model B+, 700MHz ARM CPU, 512MB RAM
1 × Resistor, carbon film, 0.25W, 10 kΩ, 5%
1 × Rubber foot, adhesive, SJ-5012, Ø 12.7x3.5 mm
10 × Straight pin header, female, Dual row, 2.54mm
12 × Straight pin header, female, Single row, 2.54mm
15 × Straight pin header, male, Single row, 2.54mm
4 × Temperature sensor DS18B20, probe, Water-proof, 1M cable
1.5 m Wire, stranded, 0.22mm2, Black
1.5 m Wire, stranded, 0.22mm2, Red
1.5 m Wire, stranded, 0.22mm2, Yellow
Last commit 2023-01-15, with message: Add MQTT tag, use shortcode for git repository